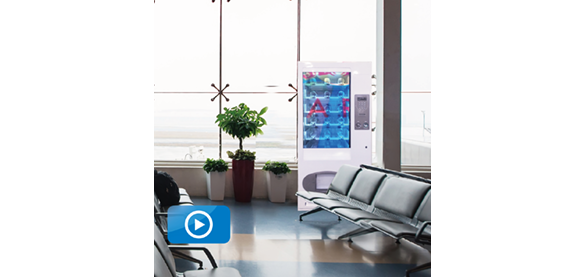 This "Transparent LCD Show Case" is a display system located in the area of exhibition or museum in the station, providing advertisements to passengers with following features:
1. More Attractive Advertisement and Online Sales
Compared to demo box without LCD, this display system can show dynamic videos for advertising and giving the impression of magic.
Passengers can use their smartphones and scan displayed QR codes to purchase online.
LWO offers an option of adopting cameras to record customer feedback for further big data analysis.
With the help of this display system, railway operators can provide better experience to passengers.

2. Real Time Clock


SEC offers an option of adopting real time clock to turn on screens at the selected timing, therefore railway operators can save energy expense.

Product Specification:

Model Name
TFK-6030BL(+Media Box)
Display Area
1428.48(W) x 529.73(H)

Optimum Resolution
1920 x 712
Contrast Ratio
5000 : 1
Brightness
N/A
Video Input
VGA/ DVI/ HDMI in / USB(2.0)in

Dimensions(mm)

1485(W) x 639.1(H) x 23(D)

mm
Model Name
TDK-4200AT(+Media Box)
Display Area
930.24(W) x 523.26(H)

Optimum Resolution
1920 x 1080
Contrast Ratio
4000 : 1
Brightness
N/A
Video Input
VGA/ DVI/ HDMI in / USB(2.0)in

Dimensions(mm)

1023.8(W) x 617.5(H) x 85.5(D)

mm


Feel free to contact us (sales@shine-epoch.com.tw) if you are looking for a tailor-made "Transparent LCD door for vending machine" with industrial grade